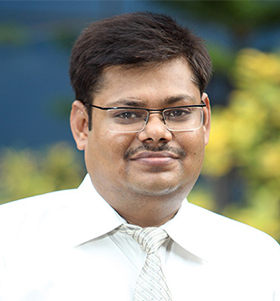 Dr Anant Kumar
Associate Professor, Rural Management
Background
Dr. Anant Kumar is a Fulbright Scholar and an Associate Professor in the Rural Management Programme at Xavier Institute of Social Service (XISS), Ranchi, Jharkhand. Dr. Kumar obtained his bachelor's and master's degree in psychology from the University of Allahabad; and M.Phil. and Ph.D. from Jawaharlal Nehru University (JNU), New Delhi. He offers courses in Behavioral Science, Organizational Behavior, Public Policy, Public Health, and Soft Skills and Personality Development.
Professional Experience
Dr. Kumar is also an Adjunct Additional Professor at the Global Institute of Public Health, Thiruvananthapuram, Kerala; and an Affiliate at Global Gender Center, RTI International, USA. Dr. Kumar is Associate Editor, Public Mental Health; and a Member of the editorial board of Materia Socio-Medica. Dr. Kumar has participated and presented his work globally in conferences in the USA, Canada, Australia, China, Malaysia, Ethiopia, Kenya, Malaysia, and Bangladesh. He is on the panel of reviewers for various national and international Journals and has published over 90 papers in national and international journals like Economic and Political Weekly, Lancet, Public Health, Journal of Mental Health, Health Sociology Review, Social Work in Public Health, etc. He has two books and five book chapters to his credit. He is a member of the Expert Committee of the Rehabilitation Council of India (RCI), and a member of the Board of Studies at IIHMR University, Jaipur, and MIT World Peace University, Pune. Dr. Kumar is associated with various organizations and professional groups. He is a life Member of the Indian Association of Public Health (IAHP) and the Indian Association for Study of Population (IASP).
Achievements
Dr. Kumar is an accredited, Licensed Practicing Psychologist and helps people with a range of psychological and behavioural problems to improve their lives. He specializes in counseling and helps people to understand their self and personality, human reactions, emotions, and behavior to treat problems. He holds a Diploma in Community Mental Health from the National Institute of Mental Health and Neurosciences (NIMHANS), Bangalore.

Dr. Kumar was an Adjunct Associate Professor in the Public Health Leadership Programme at the Gillings School of Global Public Health, University of North Carolina, Chapel Hill (2016-2019); and a member of the Board of Directors of the Canadian Coalition for Global Health Research (2014-2016). He has been the recipient of Fulbright-Nehru Academic and Professional Excellence fellowship (2015-2016); and a Guest Fellow at Indian Institute of Advanced Study, Shimla (2013). Prior to his joining at XISS, Dr. Kumar worked as a consultant in the Non-profit sector, developing and implementing programmes and improvement strategies for programmes and organizations.