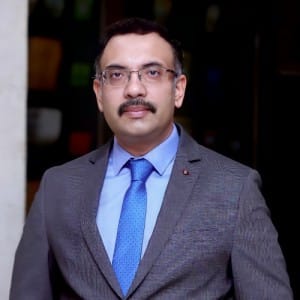 Dr Rik Das
Assistant Professor, Information Technology
Background
Dr. Rik Das is an Assistant Professor for Post Graduate Programme in Information Technology, Xavier Institute of Social Service, Ranchi. He is a Ph.D. (Tech.) in Information Technology from University of Calcutta. He has also received his M.Tech. (Information Technology) from University of Calcutta after his B.E. (Information Technology) from University of Burdwan.
Professional Experience
Dr. Das has over 16 years of experience in academia and research with various leading Universities and Institutes in India including Narsee Monjee Institute of Management Studies (NMIMS) (Deemed-to-be-University), Globsyn Business School, Maulana Abul Kalam Azad University of Technology and so on. He has an early career stint in Business Development and Project Marketing with Industries like Great Eastern Impex Pvt. Ltd., Zenith Computers Ltd. and so on.
Achievements
Dr. Rik Das is appointed as a "Distinguished Speaker" by the "Association of Computing Machinery (ACM)", New York, USA in July, 2020.
Dr. Rik Das is featured in uLektz Wall of Fame as one of the "Top 50 Tech Savvy Academicians in Higher Education across India" for the year 2019.
Dr. Rik Das is a Member of International Advisory Committee of AI-Forum, UK.
Dr. Rik Das is awarded with "Professional Membership" of the "Association of Computing Machinery (ACM)", New York, USA for the year 2020-21.
Dr. Rik Das is the recipient of prestigious "InSc Research Excellence Award" hosted in the year 2020.
Dr. Rik Das is conferred with Best Researcher Award at International Scientist Awards on Engineering, Science and Medicine for the year 2021.
Dr. Das has carried out collaborative research with professionals from Industries like Philips-Canada, Cognizant Technology Solutions, TCS and so on. His keen interest towards application of machine learning and deep learning techniques for designing computer aided diagnosis systems has resulted in joint publications of research articles with Professors and Researchers from various Universities abroad including College of Medicine, University of Saskatchewan, Canada, Faculty of Electrical Engineering and Computer Science, VSB Technical University of Ostrava, Ostrava, Czechia, Cairo University, Giza, Egypt and so on. Dr. Das has filed and published two Indian patents consecutively during the year 2018 and 2019 and has over 40 International publications till date with reputed publishers like IEEE, Springer, Emerald, Inderscience and so on. He has also authored three books in the domain of content based image classification and has edited 3 volumes till date with IGI Global, CRC Press and De Gruyter, Germany, respectively. Dr. Das has chaired several sessions in International Conferences on Artificial Intelligence and Machine Learning as a domain expert.

Dr. Rik Das has served as an invited speaker in various national and international technical events, conclaves, meetups and refresher courses on data analytics, artificial intelligence, machine learning, deep learning, image processing and e-learning organized and hosted by prominent bodies like University Grants Commission (Human Resource Development Centre), The Confederation of Indian Industry (CII), Software Consulting Organizations, MHRD initiative under Pandit Madan Mohan Malviya National Mission on Teachers and Teaching, IEEE Student Chapters, Computer Science/ Information Technology Departments of Leading Universities etc. Dr. Das is always open to discuss new research and project ideas for collaborative work and for techno-managerial consultancies.