Programme Overview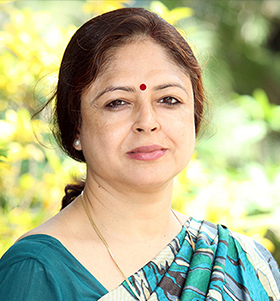 Dr. Mahua Banerjee
Head, PGDM
(Information Technology)
Success is defined by the level of awareness to transform information into actionable insights. Multiple sources are simultaneously offering plethora of information related to every possible phenomenon of our existence. This has unlocked world of opportunities in front of the business houses to offer customized solutions to every stakeholder. Information Technology is pivotal in managing these radical changes amidst business houses to cater the transformation. Post Graduate Program in Information Technology (PGPM-IT) is designed to offer the essential skills for a professional during the Industrial Revolution 4.0. dominated by Artificial Intelligence and Data Analytics. The job market has an escalated demand for professionals with right skills in these domains for efficient Business Analytics.
The Program is carefully curated with right blend of Managerial exposure and Technical expertise. Loaded with all the necessary ingredients of a Post Graduate Management Program, it empowers a professional to extract business insights from raw data using open source software packages like R, Python etc. It offers deep understanding of business data exploration by offering hands on implementation of machine learning and deep learning models.
The experienced faculty members of the Program are consistently engaged in Research and Consultancies to bring the very best and the most recent in the market to the classrooms. Frequent interactions with Industry Stalwarts and live exposure to real time problems lodge the stepping stone of a successful professional since the first day of the Program.
Post Graduate Program in Information Technology makes you capable to take data driven decisions. This is the only trait for a successful Manager in contemporary job scenario. Due to its interdisciplinary approach, the program is equally suitable to anyone with passion to succeed, grow and deliver in this competitive world irrespective of undergraduate specialization.
Programme Educational Objectives (PEOs)
Program educational objectives are broad statements that describe the career and professional accomplishments that the program is preparing its graduates to achieve within a few years of graduation as follows:
To develop managers with strong ethical values capable of playing a major role in business organisations in particular and the society at large.

To equip the students with the right attitude, knowledge, and skills in areas of business management and information technology necessary to succeed in the data-intensive VUCA environment.

To develop future information technology leaders, who can negotiate and navigate complex and changing IT landscape and its impacts on business management.

To encourage the quest for higher education, research, and development.

To make sustained efforts for the holistic development of students, enabling them to excel in their professional careers in information technology management and related disciplines.
Programme Outcomes (POs)
After successful completion of the programme, students will be able to:
Deliver value-based leadership

Apply knowledge of management theories and practices to solve business problems.

Analyse, evaluate and make data-driven business decisions.

Understand and manage the complexities of the modern business value chain and organizational transformations in the rapidly changing technological environment.

Conceptualize and operationalize business research problems and be stimulated to undertake higher education in the field of management and information technology.

Understand, analyse and communicate global, economic, legal and ethical aspects of the business.

Lead themselves and various stakeholders in the achievement of organisational goals and contribute effectively to a team environment.
Course Structure for PGDM ( Information Technology )
Trimester – I
Business Communication
Business Statistics
Data Analysis using Excel
Information Technology for Management
Managerial Economics
Mathematical Foundation for Management
Principles and Practices of Management
Professional Social Work
Urban Social Field Work
Term Viva
Overall Performance
Trimester – II
Business Modeling using Excel
Ethics for Computer Professionals and Cyber Laws
Foundation and Basics of Organizational Behaviour
Human Resource Management
Macro Economics
Marketing Management
Operations Research
Programming Techniques and Problem Solving
Urban Social Field Work
Term Viva
Overall Performance
Trimester – III
Database Management System
e-Business
Essentials of Organizational Behaviour
Internet Marketing
Management Information System
Principles of Accounting
Production and Operation Management
Research Methodology
Societal Analysis and Justice Concern
Urban Social Field Work
Term Viva
Overall Performance
Trimester – IV
Elective 1
Elective 2
Elective 3
Elective 4
Elective 5
Artificial Intelligence for Business
Environmental Management
Project Management
Soft Skill and Personality Development
Total Quality Management
Progress in Summer Internship Programme
Term Viva
Overall Performance
Electives
SECTION – A
Cloud Computing
Data Warehouse Data Mining
Object Oriented Programming
Enterprise Resource Planning
Software Engineering
Python Programming
SECTION – B
Financial Management
Human Resource Development
Management of Banking
Change Management
Entrepreneurship and New Ventures
Trimester – V
Elective 6
Elective 7
Elective 8
Elective 9
Elective 10
Business Analytics
Business Ethics
Corporate Social Responsibility
Summer Internship Programme
Overall Performance
Electives
SECTION – A
Human Resource Information System
Operating System: Concepts and Principles
Software Project Management
Machine Learning for Data Driven Decision Making
Geographic Information System
Internet Technologies
SECTION – B
Customer Relationship Management
Financial Analysis, Planning and Control
Retail Management
Risk Management and Insurance
Social Banking and Micro Finance
Trimester – VI
Elective 11
Elective 12
Elective 13
Elective 14
Business Policy and Strategic Management
Overall Performance
Electives
SECTION – A
Cyber Threats and Vulnerabilities
Data Science with R
Data Structure
Economics of Information and Network Industries
Internet of Things (IoT) in Business
Knowledge Management
SECTION – B
Logistics and Supply Chain Management
Money Banking and Finance
Organizational Behaviour-Organizational Level Concepts
Security Analysis and Portfolio Management
Strategic Management for Sustainable Development