Special environment rally and plantation drive by students of HRM Programme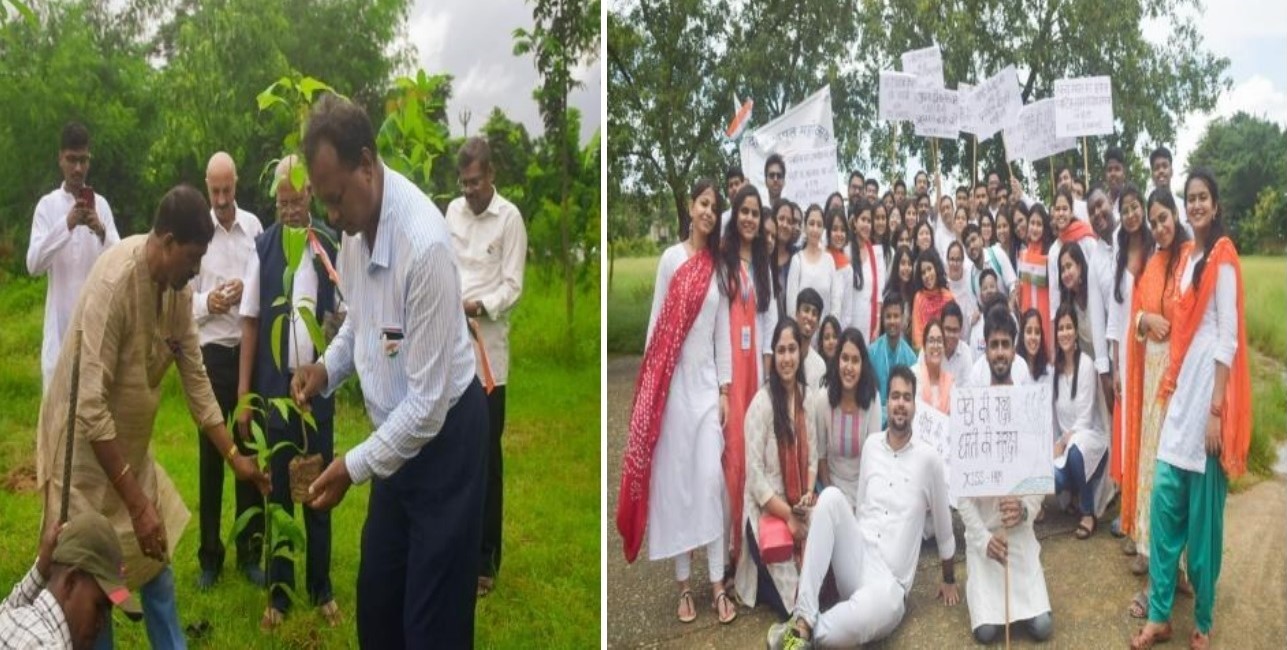 A special rally and plantation drive was organized by the students of Human Resource Management Programme, in association with Alumni Association of XISS (AAXIS), Ranchi Chapter under the program of Azadi Ka Amrit Mahotsav in Xavier Institute of Polytechnic and Technology (XIPT) campus, Namkum on 15 August, 2022.
The event included a rally to spread awareness against the use of plastic. The theme of the rally was 'Plastic Hatao Zindagi Bachaao, Paudha Lagao Dharti Bachaao'. The rally began from XISS Campus till Dangra Toli Chowk. The rally was graced by Dr Joseph Marianus Kujur SJ, Director XISS; Dr Amar Eron Tigga, Dean Academics; Dr Shyamal Gomes, Head of Programme (HoP), Fr Xavier Soreng SJ, Superior; Fr Claber Minj SJ, Finance Officer, faculty members like Dr RK Agrawal, Dr Anant Kumar, Dr Mrityunjoy Roy, Dr KM Spring, Dr Indrani Ghatak, Dr Sharda Singh, and around 130 students from the programme. Dr Gomes emphasized on the importance of conserving nature for the future during the plantation drive. Representatives of AAXISS including Mr Alok Gupta, Secretary, Mr Jasbir Singh Khurana, Vice-Chairman, Mr Himalay, Joint Secretary, and Mr Satish Mishra also supported the students during the rally.
Dr Joseph Marianus Kujur SJ, Director, XISS, inaugurated the programme and said that human beings are the toolmakers whose hands are capable to create and must maintain natural resources in a sustainable manner to attain ecological balance. He also announced that XISS will develop a special committee and policy to make XISS as a Green Campus. Dr Amar Eron Tigga, Dean Academics, XISS, stressed on the duty of implementing and said that we humans are responsible for our actions on the environment. We need to consider the Three P's of sustainability which are Planet, People and Profit in order to create a healthy environment for our future generations.
The journey was made on foot while singing patriotic songs and slogans along the way. The enthusiasm of the XISS crowd was well noticed by the passerby as it definitely stirred a renewed sense of devotion for the country in them. The event continued at XIPT campus in Namkom where XISS Faculty, students of both years of HRM Programme, alumni members, and students of XIPT planted 76 fruit trees like Mango, Guava, Jamun Amla etc. Fr Xavier Soreng SJ encouraged the students for continuing this initiative and consider these plants as their brothers and sisters and that "each one fruit tree one" concept can sustain.