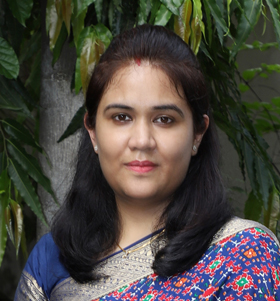 Dr Pooja
Assistant Professor, Marketing Management
Background
Pooja completed her schooling from D.A.V Kapildev Public School, Ranchi .She holds a B.Sc (Hons) degree from Ranchi University. There after she pursued her MBA from Amity Business School, Amity University, NOIDA with specialization in Human resources and Marketing. Since, she always wanted to take up academics as her career, after the completion of her MBA; she enrolled herself in the PhD program at Department of Management, Birla Institute of Technology, Mesra, Ranchi and holds a Ph.D degree in HR.
Professional Experience
She has several papers to her credit in both national as well as international journals indexed in prestigious databases. She has also worked with academic institutions of repute as a faculty member prior to joining XISS in February 2017. The courses taught by her are organizational behaviour, Human resource Management and general management papers.
Achievements
She is member of the Editorial Board and Reviewer for Management Journals of repute. She is also a life time member of NHRD-Ranchi Chapter. The courses taught by her are Organizational Behaviour, Human resource Management , Business Law, Business Ethics and Corporate Social Responsibility.