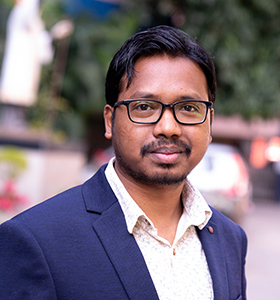 Dr Fedric Kujur
Assistant Professor, Marketing Management
Date of Joining: 01.02.2022
Background
"Fedric Kujur completed his schooling from Holy Cross Higher Secondary School, Raipur. He holds a B.Com. Degree from St. Vincent Pallotti College Raipur, (Pt. Ravishankar Shukla University, Raipur). There after he pursued his Post Graduation degree in Finance from Berhampur University Odisha and then enrolled himself in the PhD program at Department of Management Studies, Indian Institute of Technology (Indian School of Mines), Dhanbad. After 5 years of rigorous research, he successfully completed his PhD degree in Marketing under the supervision of Dr. Saumya Singh.
He has joined the Department of Marketing Management, XISS in the year 2022. Prior to joining XISS, he worked in the School of Management and Commerce, Brainware University as an Assistant Professor for 1.5 years.
"
Achievements
He is a life time member of the Decision Sciences Institute (DSI). He is an expert reviewer with Academic Exchange Information Centre (AEIC) which has strategic partner of world leading publishing houses including IEEE, Springer, Elsevier, Wiley, IOP, EDP, Sage, SPIE, Taylor & Francis Group etc.