Programme Overview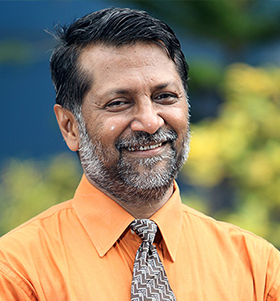 Dr. Ramakant Agrawal
Head, PGDM
(Human Resource Management)
The two year Post-Graduate Diploma in Management (Human Resource Management) aims at preparing young men and women to face challenges in the domain of Human Resource Management.
Apart from the fundamental theoretical inputs in Human Resource Management, Industrial Relations and Human Resource Development, the programme seeks to equip students with practical knowledge and requisite skills to be effective in their profession. Stress is laid on the development of dynamic personality by nurturing in the students, values and attitudes built on the firm edifice of keen social-awareness.
Course Objective
The Institute proposes to make its students agents of social change, who see their future not primarily as a career for self-enrichment but as a way of contributing their part to the basic evolution that is taking place in India today.
In this context, the imparting of knowledge and skills is of vital importance, but even more crucial is the purpose for which this knowledge and these skills are utilized. Will they contribute to justice for the poor and oppressed, more social concern, more honesty and cultural understanding, rather than the maintenance of the status quo and a lopsided distribution of power and benefits? This will, to a great extent, depends on the values that students carry with them when leaving the Institute.
In order to prepare students for the challenging tasks that await them, the programme equips them with knowledge, skills and values.
This can be spelled out as follows:
Students are acquainted with the problems of today's society, with the uneven distribution of power and wealth, the problems of rural development, Industry, management and industrial and social administration. This is done through a broadening of horizons by making available information in the form of books and magazines, research reports and by generating in students the desire to learn more as a lasting inclination for the rest of their professional lives.

Students are taught to reflect for themselves. The analytical and logical powers are developed so that they can comprehend problems and their implications. This is done through case studies, field visits, exposure camps and seminars.

Efforts are made to awaken in the students a scientific interest in social and management problems and to equip them with a workable knowledge of research principles and techniques.

The communication and interpersonal skills of the students are developed, so that they can express themselves clearly and with self-confidence and exert influence on others. Students are also trained to be good listeners, who are sensitized to the expectations of others, especially small people, and who can play effective role in-group situations.

Practical training assumes, in the light of objectives of the institute, grate importance and is therefore given considerable weightage in evaluating a student. Field work takes in the form of social work activities on a weekly basis work camps, community organization, labour welfare programmes, institutional visits, placement as an apprentice, and work in the slums of Ranchi.

Motivational Training: The programme tries to cultivate in the students values and attitudes that make of them agents of social change, a deep concern for the injustice perpetrated on the poor and a determination to set this right, respect for the dignity and right of everyman, women and child, especially the weak and exploited, a firm purpose to use one's professional standing to struggle against corrupt or irresponsible practices or attitudes.
Course Structure for PGDM (Human Resource Management)
Trimester – I
Principles and Practices of Management
Industrial Sociology
Labour Laws-I
MIS-I
Business Communication
Managerial Economics
Social Work
Communication Lab
Social Service Field Work
Performance Evaluation
Viva-voce
Trimester – II
Accounts and Financial Management
MIS-II
Statistics for Managers-I
Organizational Behaviour-I
Labour Laws-II
Industrial Relations-I
Strategic Management
Structural Analysis of Society
Social Service Field Work
Rural Camp
Performance Evaluation
Viva-voce
Trimester – III
Human Resource Management
Statistics for Managers-II
Research Methodology
Industrial Relations-II
Labour Laws-III
Operations Research
Organizational Behaviour-II
Social Justice & Social Action
Social Service Field Work
Performance Evaluation
Viva-voce
Trimester – IV
Human Resource Planning
Service Jurisprudence
Strategic HRM
HRD
Industrial Relations-III
Total Quality Management-I
Labour Laws-IV
Organizational Behaviour-III
Performance Evaluation
Viva-voce
Trimester – V
Organizational Development
Compensation Management
Labour Welfare & Industrial Health
Business Laws
Electives (IR / HRD)
Total Quality Management-II
Industrial Study Tour
Performance Evaluation
Viva-voce
Trimester – VI
Business Env. Of Dev. Eco.
Marketing Management
Business Ethics
Corporate Social Responsibility
Electives (IR / HRD)
Production Management
International HRM
Research Project Viva-voce
Progress in Project Work