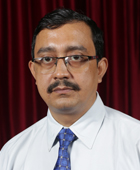 Dr Mrityunjoy Roy
Assistant Professor, Human Resource Management
Date of Joining: 04.01.2016
Background
Dr. Mrityunjoy Roy is currently the Assistant Professor, Department of Human Resource Management, Xavier Institute of Social Service, Ranchi.
Professional Experience
He has been awarded Ph.D. Degree in Business Administration from The University of Burdwan as per UGC'S (Minimum Standards and procedure for award of Ph.D. degree) Regulation – 2009 in Logistics and Supply Chain Management. He received his M.B.A degree (with System and Operations Management specialization) from the Department of Business Administration, The University of Burdwan, West Bengal. Prior to his MBA degree he worked as a Software Support Executive in TULEC (A Div. of TATA InfoTech Ltd). He also obtained his Post Graduate Diploma in Information Management (PGDIM) from National Institute of Technical Teachers Training and Research (NITTTR) & C.M.C. Ltd, Kolkata. He graduated with Honours in Mathematics from The University of Burdwan, West Bengal. He has also completed eMDP on HR Analytics from IIM Rohtak. He has credited several research papers in reputed journals of national and international standard. His areas of interest are HR Analytics, Operations Research, Operations Management, SCM, HRIS, Data Analytics with R, Tableau etc.
Achievements
Before joining XISS Dr. Roy has been associated with The Directorate of Distance Education, The University of Burdwan, West Bengal as a Core Faculty in MBA Programme and Management Institute of Durgapur (AICTE approved MBA institute), Durgapur as an Assistant Professor, MBA Programme. He has more than 14 years post-graduate level and 04 years under-graduate level teaching experience in Management subjects like Quantitative Techniques, Operations Research, SCM, Production and Operations Management, MIS, HRIS, HR Analytics, DBMS etc. in different Management Institutes / colleges. In addition to the above, He engaged as visiting professor in Business Administration, HRM, Commerce Departments of The University of Burdwan for 8 years (2004-2012).