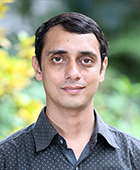 Dr Pramil Kumar Panda
Assistant Professor, Research & Planning
Date of Joining: 01.12.2008
Background
Dr. Pramil Kumar Panda is an Assistant Professor in the Programme of Rural Management and Head of the Department of Research and Planning at Xavier Institute of Social Service (XISS), Ranchi.
Professional Experience
He has more than 15 years of experience in academia and research. His research and teaching interests include Theories of Development, Indian Social Structure, Agrarian Society and Peasant Movements, Rurban Management, Corporate Social Responsibility, Research Methodology, Qualitative Research Methods and Participatory Rural Appraisal.
Achievements
Before joining XISS, he has worked as an Assistant Professor at Gujarat Institute of Development Research (GIDR), Ahmedabad and before that as a Research Officer at Participatory Research Institute in Asia (PRIA), New Delhi. He was a part-time visiting professor at Indian Institute of Management (IIM), Ranchi. He is also a recognized Ph.D. thesis supervisor in the Department of Humanities and Social Science at IIT (ISM), Dhanbad. He is a member of the editorial board of Jharkhand Journal of Development and Management Studies. He is also the life member of both Indian Sociological Society and Indian Anthropological Association.

He holds a Ph.D. degree in Sociology from Jawaharlal Nehru University, New Delhi. He has qualified the National Eligibility Test with Junior Research Fellowship (NET with JRF) conducted by the University Grants Commission (UGC) and is the recipient of both University Gold Medal and Utkal Gaurav Madhusudan Das Gold Medal for securing first class first in Masters degree in Sociology from Sambalpur University, Odisha. He was also a recipient of the institutional fellowship provided by the Indian Council of Social Science Research (ICSSR) at the Institute for Social and Economic Change (ISEC), Bangaluru for a year.

He has 16 publications in the form of book chapters and articles in various national and international journals including both scopus indexed and UGC approved journals. He has presented research papers in various national and international seminars and conferences all over India. He has also acted as resource persons in several faculty development programmes, management development programmes and refresher courses. He has undertaken more than 30 research and consultancy projects as the principal investigator or co-principal investigator. He has been conferred upon the Bharat Excellence Award by Friendship Forum, Bharat Jyoti Award by the India International Friendship Society, New Delhi and Yuva Manas Samman by Odia Weekly Rastradeep.

His profile pages of research networking and social networking sites may be viewed on: