9th Awanish Kumar Dev Memorial Lecture Held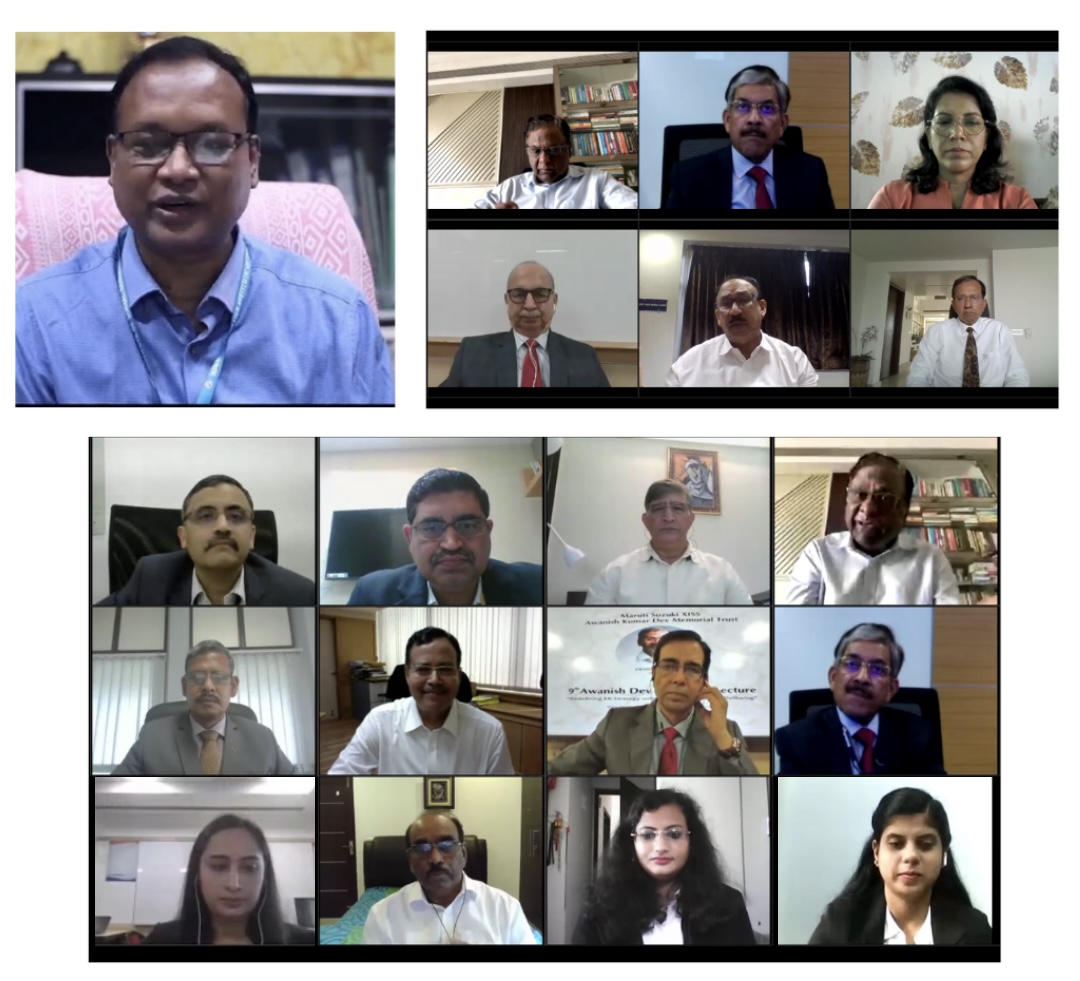 'Redefining ER strategy with focus on employee wellbeing'
The Maruti Suzuki XISS Awanish Kumar Dev Memorial Trust in association with Xavier Institute of Social Service (XISS), Ranchi and NHRDN organised the 9th Awanish Kumar Dev Memorial Lecture on 21 September 2021. The memorial lecture was based on 'Redefining ER strategy with focus on employee wellbeing' with the theme of 'Preparing for the new Labor Codes' followed by a student panel discussion with theme 'Future of Work', in memory of the late Mr Awanish Dev, an alumnus of XISS PM&IR batch of 1984.
Dr Joseph Marianus Kujur SJ, Director, XISS, appreciated the efforts of the organizing committee and highlighted the importance of this memorial lecture. He stated that the memorial lecture is an initiative to strengthen the IR capability across the country and XISS is very pleased to be a part of it. Through this lecture, he hoped that the esteemed panel discussed and reasoned on the thought provoking issues of today's industry dynamics including how to mobilise the negative energy of the workforce into positive and constructive. Ensuring fair work culture along with proper delegation and concentration of power and how to deal with labour unions, employment discrimination and immigration even in the midst of this environment of devastation, crisis, uncertainty, insecurity, joblessness, climate change etc., were also discussed. He also highlighted the necessities an HR professional should posses in today's time including redeeming, redefining, revisiting and reliving the legacy of Awanish Dev, a true professional with a difference.
Mussarat Hussain, Head-Leadership and Functional School, MSIL commenced the session where Mr Rajesh Uppal, Executive Board Member, MSIL, announced the recipients of this year's scholarship at XISS-Mr. Kamaljeet Singh, Ms. Shrawani Roy and Ms. Nidhi Singh respectively.
Mr Suresh Narayan, Chairman and MD Nestle India Ltd stated that the task of leadership is to be an evangelist, and not the one wielding the stick at all times. Dr Santrupt Misra, CEO & Director, Group HR Aditya Birla Group emphasized on the employee relationship with each other needs to be built on respect, dignity, and trust.
Mr S.Y. Siddiqui, Executive Advisor, MSIL; Mr P. Dwarkanath, Former Chairman of GSK Consumer Healthcare Ltd; Mr Madhu Damodaran, Group Head Legal Quess Corp Ltd; Mr Sreekanth Reddy Narala, VP-HR Aditya Birla Group; Mr Ramkishore S, VP & Head-HR, L&T Construction; Mr R.P. Singh, Director-HR & Legal IFFCO; Mr Suresh Tripathi, Former VP-HR TATA Steel and Dr G. P. Rao, Founder of GPR HR Consulting LLP also shared their words of wisdom with students participating from various B-schools across the country. Dr Pradeep Kerketta SJ, Assistant Director, XISS, faculty and students of the HRM programme of XISS also attended the online lecture.
About Awanish Kumar Dev Memorial Lecture:
Maruti Suzuki India Ltd. had jointly set up the Maruti Suzuki XISS Awanish Kumar Dev Memorial Trust under which the Awanish Kumar Dev Memorial Lecture is organised and scholarships are awarded. This trust is constituted in the memory of Awanish Dev, GM Plant HR, Maruti-Suzuki India Ltd. who was an alumnus of XISS PM&IR batch 1982-84, who lost his life during a clash at the auto major's Manesar plant on July 18, 2012.