Five-day ATAL FDP on Strategic Performance Management at XISS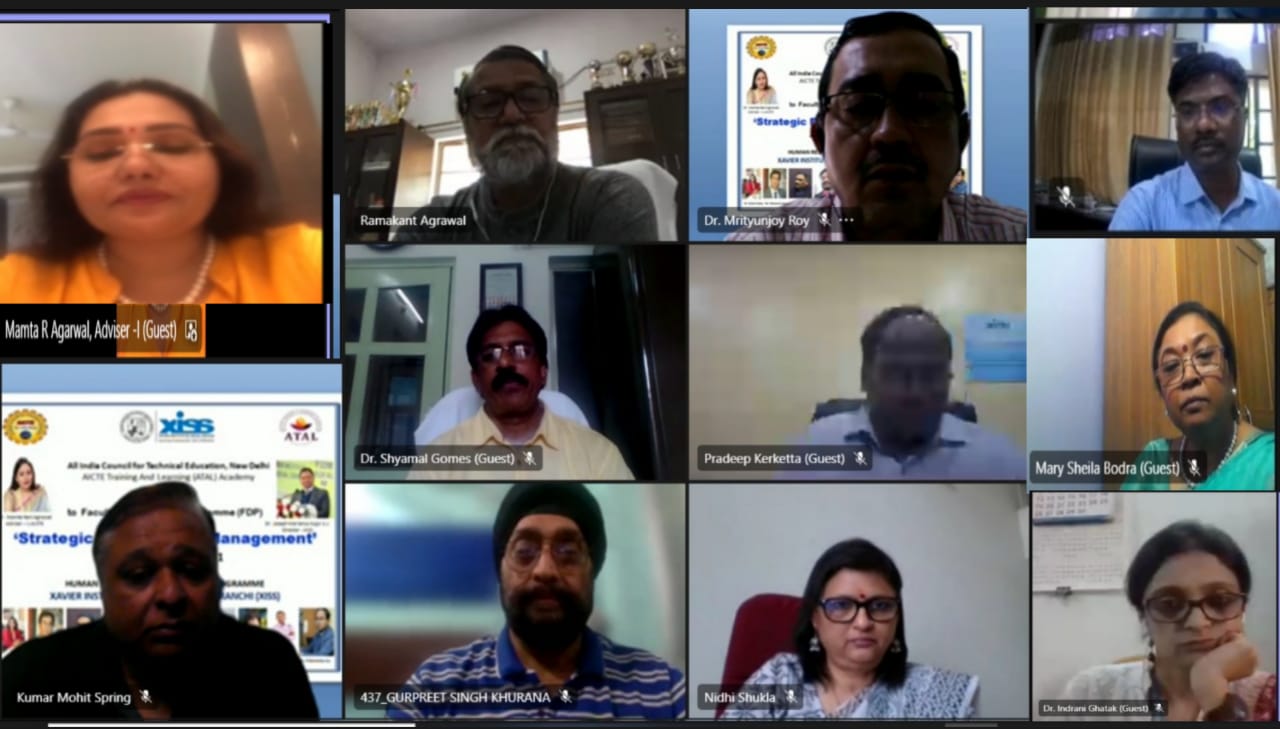 A five-day Faculty Development Programme (FDP) on 'Strategic Performance Management' in collaboration with All India Council for Technical Education (AICTE) under its AICTE Training & Learning (ATAL) Academy, New Delhi was organized by Xavier Institute of Social Service (XISS), Ranchi, and its Human Resource Management (HRM) Programme via online mode from 21-25 September 2021.
Director, XISS, expressed his gratitude to AICTE-ATAL for helping faculty members from all over the country in improving their efficiency and delivery and appreciated AICTE for being successful in bringing structural changes to technical education by fostering research and innovation benefiting almost 30,000 resource persons.
Mrs Mamta Rani Agarwal, Adviser-1, ATAL Academy said that the pandemic has heightened and accelerated the re-skilling emergency that we are facing both in the corporate world and in academics. Learning itself is a skill and structured learning is a long term driver of career success. Thus, each of us should become intentional learners to grow and drive a sustainable mindset.
Dr Ramakant Agarwal, HoP, HRM Programme, established that managerial economics not only tracks the external but also the internal environment in order to achieve sustainability in long term performance as well as gain a competitive advantage. Dr Shyamal Gomes, Professor, HRM XISS, and Coordinator ATAL-FDP, discussed the linkage between performance management and business strategy during the session. Dr Pradeep Kerketta SJ, Assistant Director, XISS, Faculty of XISS and from several other universities and colleges attended the FDP.
Snippets of the 5-day XISS ATAL FDP:

Day 1:Prof Mary Bodra, Associate Professor, HRM XISS, highlighted the importance Strategic Performance Management within the current environment of change. Dr. Shyamal Gomes, Professor, HRM XISS, and Coordinator ATAL-FDP emphasized how performance management refocuses our efforts away from being busy toward being effective and shifts our focus on achieving results for customers both inside and outside the organization.
Day 2: Prof Mary Bodra, Associate Professor, HRM Programme, discussed that the modern appraisal practices have seen a remarkable shift towards compatibility with organizational context. Dr Kumar Mohit Spring, Associate Professor, HRM Programme stressed on the inclusion of constructive feedback in order to promote motivation and how to adjust performance in order to get the desired organizational standards. Mr. Musssarat Hussain, Head-Leadership & Functional School, Maruti Suzuki India Limited discussed on Performance Monitoring, Coaching, and Counseling and stated, "At Maruti, with respect to strategic performance management, we believe in building talent rather than buying talent, this is what sets us apart from our competitors."

Day 3: Conducting a session on Performance Managing in Stress Situations, Mr. Imdad Ali, Chief HRM, Tata Steel Kalinganagar, spoke about performance management during the pandemic, a previously inexperiencedchallenge for modern day managers.
Dr Ratna Sinha, VP HRM, Tata Metaliks enlightened the audience with Performance Managing Systems in the environment of Digitization of HR. "Vulnerability is very important to not be complacent being at senior positions", she emphasized.
In another session, conducted by Mr. Mussarat Hussain, Head-Leadership & Functional School, the focus was on fostering a culture of innovation, employee engagement, knowledge management, leadership development, and skill building to lead an organization on the path of growth.

Day 4: Speaking about the linkage between performance management and reward system, Mr Sanjay Dua, Founder, DUA's Knowledge Potli, suggested various measures such as giving importance to role clarity, supporting ease of conversion of the awards into cash, and defining the frequency as well criteria for the awards.
Taking the discussion towards Ethics in Performance Management, Dr Shyamal Gomes advised the audience against moral maze, managerial malpractices and favoritism, peer pressure, and workplace politics.
Mr. Imdad Ali also conducted another session on the documentation and auditing of performance management and how this crucial process has been digitized for ease of recordkeeping.
On the concluding day of the FDP, Dr Kamakshi Raman, Executive Director, MTL, SAIL, Ranchi while shedding light on the Role HR Professionals in of Performance Management stressed on the importance of ensuring effective linkages between employee performance and organizational priorities.