11th Awanish Dev Memorial Lecture organised by XISS & MSIL

Maruti Suzuki India Limited XISS Awanish Kumar Dev Memorial Trust organized the "11th Awanish Dev Memorial Lecture" on 21 September 2023 at International Automobile Centre of Excellence (iACE), Gandhinagar, Gujarat. The theme of the lecture was 'Leading the Future: Repositioning Employee Relations.' The Memorial Lecture was jointly hosted by Xavier Institute of Social Service (XISS) and Maruti Suzuki India Limited (MSIL).
The memorial lecture organised intended to bring together CEOs, HR thought leaders, IR Professionals, Academicians, and Management students to discuss and share their views on the IR issues and Challenges facing the country. This lecture was organised in association with National HRD Network (NHRDN). Students from IIM-A, TISS, NMIMS, SCMHRD, and XIMB were part of the memorial lecture.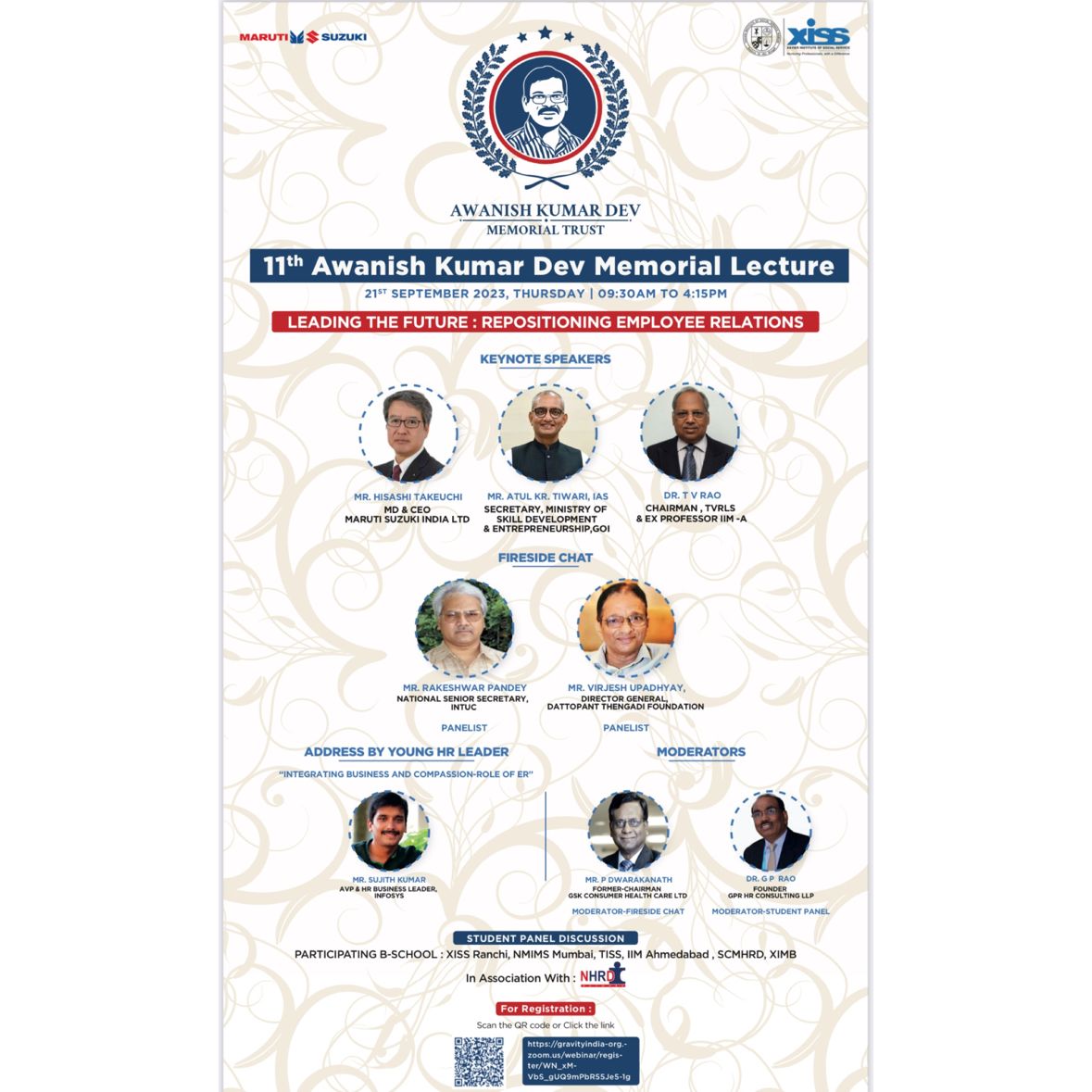 The keynote speakers of the memorial lecture were Mr Hisashi Takeuchi, MD & CEO, MSIL; Mr Atul Kr. Tiwari, IAS, Secretary, Ministry of Skill Development & Entrepreneurship, GoI, and Dr TV Rao, Chairman, TVRLS & Former Professor, IIM-A. The memorial lecture was also attended by Dr Joseph Marianus Kujur, Director, XISS, Ranchi, Dr Amar E. Tigga, Dean Academic, XISS, Dr Kumar Mohit Spring, Associate Professor, XISS, Mrs Suparna Prasad, Wife of late Awanish Kumar Dev, Mr Dhananjay Singh, and Mr Mayur Patel from NHRDN.

In a fireside chat during the memorial lecture, Mr Rakeshwar Pandey, National Senior Secretary, INTUC and Mr Virjesh Upadhyay, Director General, Dattopant Thengadi Foundation kept the audience engaged throughout the lecture. Mr Sujith Kumar, AVP & HR Business Leader, Infosys gave an interesting address on Integrating Business and Compassion- Role of ER to the young HR leaders during the event. The memorial lecture was moderated by Mr P Dwarakanath, Former-Chairman, GSK Consumer Healthcare Ltd and Dr GP Rao, Founder, GPR HR Consulting LLP.
Watch the memorial lecture, click on the link:
Three students of Human Resource Management Programme of XISS attended the memorial lecture and a panel discussion which followed

"The dynamic city of Ahmedabad hosted the prestigious 11th Awanish Dev Memorial Lecture, which united a distinguished gathering of esteemed academicians and seasoned HR professionals. With the gracious collaboration of XISS-Maruti Suzuki India and NHRDN, the event provided an engaging exploration of the theme 'Leading the Future: Repositioning Employee Relations.' Participating in the student panel discussion was an exceptional honour, allowing me to interact with distinguished representatives from acclaimed institutions such as IIM-A, TISS, NMIMS, SCMHRD, and XIMB. Yet, the true highlight was the presence of Dr GP Rao, whose role as our moderator and mentor added an unparalleled dimension of insight and guidance, elevating the event to an extraordinary and profoundly esteemed experience. This significant gathering presented a unique opportunity to delve deeper into the critical role of HR professionals in shaping the future landscape. The exposure to such influential personalities not only broadened my perspective but also left an indelible imprint on our journey toward emerging as the HR leaders of tomorrow." - Simran Chabra

I had the privilege of delving into the dynamic world of human resources. The event was a remarkable learning experience, offering valuable insights into the latest trends that are reshaping the HR landscape. I was particularly intrigued by the discussions on diversity and inclusion, emphasizing the need for organizations to foster inclusive environments. The event also emphasized the importance of the human touch in HR, underscoring that even in an era of automation and AI, human skills such as empathy and communication remain pivotal. The panel discussions and expert insights were eye-opening. Overall, the event left me with a renewed perspective on HR practices. It has not only expanded my knowledge but also provided me with a deeper understanding of how HR professionals can adapt to and drive change in the workplace and I am eager to apply these insights in my own professional journey. - Muskan Sharma

Receiving the Late Awanish Dev Memorial Scholarship is a matter of great honour for me and being able to attend the annual lecture organized by Maruti Suzuki India Limited was a cherry on the cake. The event hosted various scholars as well as industry professionals. Listening to the insights of the honourable panel induced a great learning. The highlight of the lecture was the interaction between the trade union leader and the top management. The efforts put in by the CEO of Maruti Suzuki India Limited, Mr Hisashi Takeuchi, by engaging with a translator, to understand the message delivered by the trade union leader in Hindi, truly reflected the theme of the lecture revolving around of importance and future of employee relations. - GSS Anila