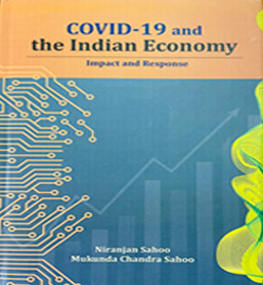 COVID 19 AND THE INDIAN ECONOMY: Impact and Response
Author:
Dr Niranjan Sahoo & Dr M.C. Sahoo
Published By :
New Century Publications, New Delhi
ISBN :
978-81-7708-517-4
About the book
With strong macroeconomic fundamentals, the Indian economy was well-placed on trajectory of high growth rate in early 2020 when outbreak of corona virus epidemic in China was reported. On March 11, 2020, the WHO declared the epidemic as a pandemic, plunging the world into an unprecedented medical crisis. When country wide lockdown was announced from March 25, 2020, most of economic activities came into a grinding halt in urban areas. However, the rural India continued to be normal in view of the exemption from restrictions allowed to farmers to conduct farming operations, including harvesting, and transporting their produces to grain markets with general conditions of face masking, hand hygiene and social distancing. These exemptions helped to maintain continuity in supply chain, especially in view of harvesting and showing season. To deal with economic challenges caused by the pandemic, Prime Minister announced the creation of COVID-19 Economic Response Force and PM CARES Fund to deal with any emergency or distress situations. India has several strengths that can help mitigate the adverse effects of COVID-19 induced slowdown. Agriculture sector is vibrant, inflation is under control, foreign exchange reserves are at record high, international crude oil price are low, and the robust social security net is in place. Announcement of Atmanirbhar Bharat Abhiyan (Self Reliant India Initiatives) which combined relief, policy reforms and fiscal & monetary measures to help business and individuals to cope up with the situation created by COVID-19 pandemic. A mega package of 20 Lakh crores of rupees was also announced to put the economic growth upward. The book on COVID 1- and The Indian Economy has explained about these in detail.